Montserrat Abogado Martínez
(montserrat.abogado@vegaguerrero.com )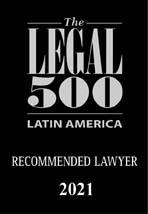 Haydée Montserrat graduated with honor from Universidad Autónoma de Aguascalientes, also thanks to her high academic performace during her studies the Centro Nacional de Evaluación para la Educación Superior (CENEVAL), granted her with the CENEVAL award for the performance of excellence-EGEL.
Having participated in several research interships in prestigious institutions such as the National Institute of Criminal Sciences and the Human Rights Program of the Universidad Nacional Autonoma de México, in 2014 she participated in the Moot Court of the Center of Mexican Arbitration, starting his practice in Commercial, Civil and Corporate Law.
She has more than 5 years of experience in litigation and conflict resolution within his areas of expertise, with multiple judmets and agreements in favor od the interests of the clients she represents.
In June 2019, she obtained a Master's degree in Social and Humanistic Research, from the Universidad Autónoma de Aguascalientes, and is currently pursuing a Degree in Economics from the Universidad Nacional Autónoma de México, a union of knowledge that allows her to deepen in the economic and financial issues of greater importance, understanding in a clearer way the needs of the clients and achieve a resolution of conflicts quickly and effectively.