(joaquin.vega@vegaguerrero.com)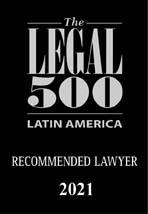 Joaquín Vega Martínez focuses his practice on financial law, corporate law and commercial transactions, representing local and foreign clients regarding the opening of their subsidiaries in Mexico, mergers and acquisitions, commercial transactions, commercial arbitration and a wide range of corporate law matters.
He has also advised clients from a wide range of industries, such as automotive, information technologies, hotels, real estate, electronic manufacturing, agricultural industries, public services, education, among others. Several Fortune 500 companies are among the clients of Joaquín Vega.
Mr. Vega has more than 10 years of experience in advising foreign companies regarding their incorporation, organization and start-up of their Mexican subsidiaries, as well as obtaining all the necessary licenses and authorizations to operate in Mexico.
Our partner has participated in the negotiation and implementation of joint ventures between companies in the automotive industry and the information technologies industry.
Finally, Joaquín Vega has solid experience in litigation and commercial arbitration, having obtained numerous favorable resolutions for his clients.
Joaquín Vega is currently Vice President of the Bajío Arbitration Committee of the International Chamber of Commerce and professor in the Law Faculty of the Universidad Panamericana.